Bitcoin Closes the Work Week A Touch Above $9,000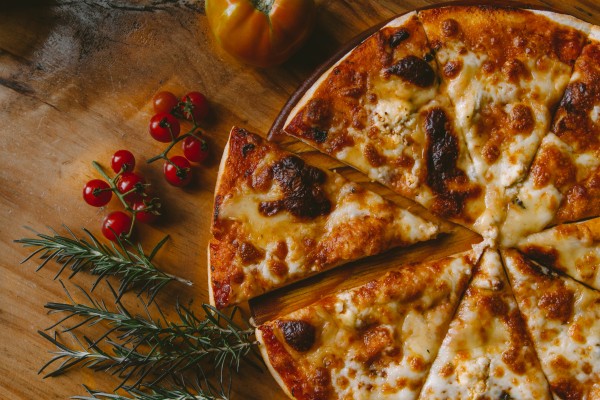 Two Papa John's Pizzas for 10,000 bitcoin was deemed reasonable at the time, at today's exchange rate, that would be $91 million. So I hope the toppings were included. Seriously though, it's tough to imagine a time when each bitcoin was worth less than half a cent.
Unwavering Confidence
Once again, the pattern repeats. The entire week has been like this already. Heavy selling during the Asian session, bottoming out in Europe and then a rally into the New York opening bell. Let's take a look at the chart. The vertical blue lines are when the NYSE opens.
Surely this must mean something.
If I had to guess, I'd say it has to do with the fact that the Americans are the only ones crazy enough to buy this market during a global pandemic and Coronavirus now rising in Brazil and India. Daily confirmed cases have now passed 100,000 per day two days in a row, for the first time.
Still, the Americans seem to have unwavering confidence in their central bank's ability to backstop any losses, no matter what happens. Even if the value of the companies go down due to the economy being in the dumps, that's not necessarily a reason for stock prices to drop. Or is it?
Back Up
Bitcoin has now come across a major inflection point. We've now seen it retreat from the critical psychological level of $10,000 per coin, but it hasn't really broken any critical levels to the downside just yet.
Looking at the blockchain, it's quite apparent that the network hasn't really recovered from the halvening just yet, and all the added volume that we're seeing is certainly having a negative impact on its performance lately.
The average transaction fee remains elevated, currently at $6.28, as the queue of unconfirmed transactions remains backed up. At the time of this writing, there are more than 50,000 transactions waiting to be confirmed, as the miners are creating blocks approximately 10% slower than they normally would.
Putting it into historical context though, these numbers aren't all that high. Here we can see that in late 2017, the backlog was nearly five times larger than it is now.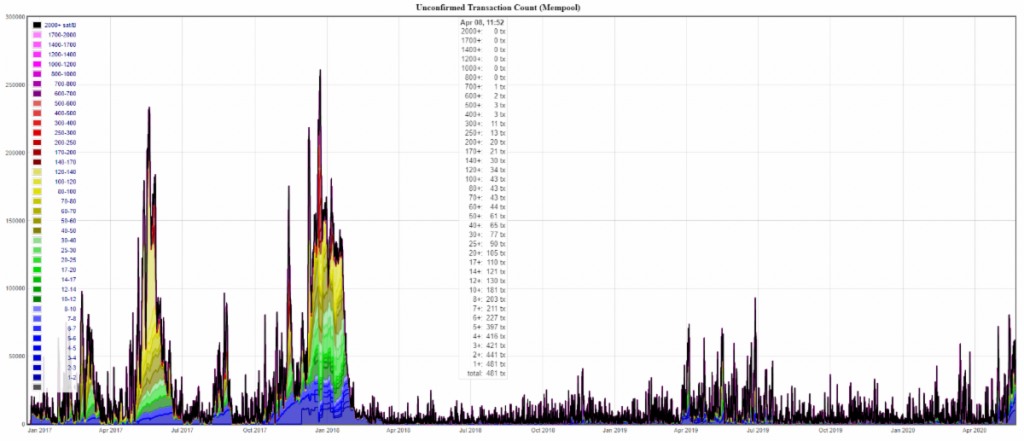 Back then, the average transaction fee was above $40 for nearly two weeks before the network finally started to clear.
All things considered, the bitcoin blockchain is handling quite well, given that the sustained load is quite higher than it was back then. Here we can see the overall number of on-chain transactions using a 90-day rolling average. The crosshair is pointed to the top of the last bubble, when bitcoin was trading at $20,000.
As we can see, back then the transactions topped off at an average of 331,636 per day, but didn't stay there for very long. More recently, the transaction level has remained above 300,000 for over a year. The enhanced performance is largely due to rising adoption of the SegWit solution, but for some reason, the level of transactions using it has dropped lately.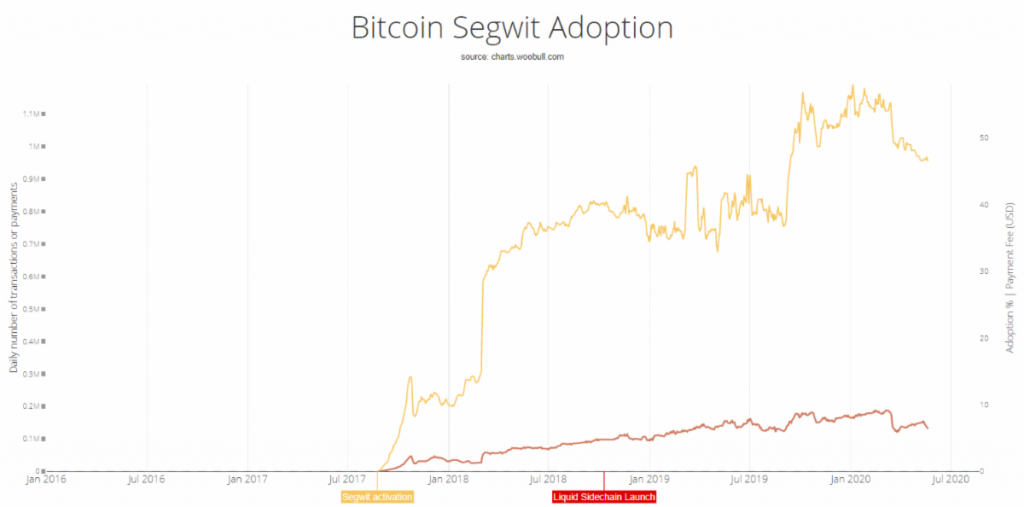 Now, I'm not entirely sure why the SegWit level might have dropped. It's pretty clear that this, in addition to the longer block time due to the halvening, is impacting performance lately.
Perhaps for this reason, some blockchain enthusiasts might be losing confidence in the legacy chain. And if price action today is any indication, we can see that other digital assets are certainly rising faster than bitcoin.
Of course this is just speculation, there's only real one digital asset that's actually being adopted right now in any real way, but markets can be somewhat irrational at times, which only makes trading them all the more fun.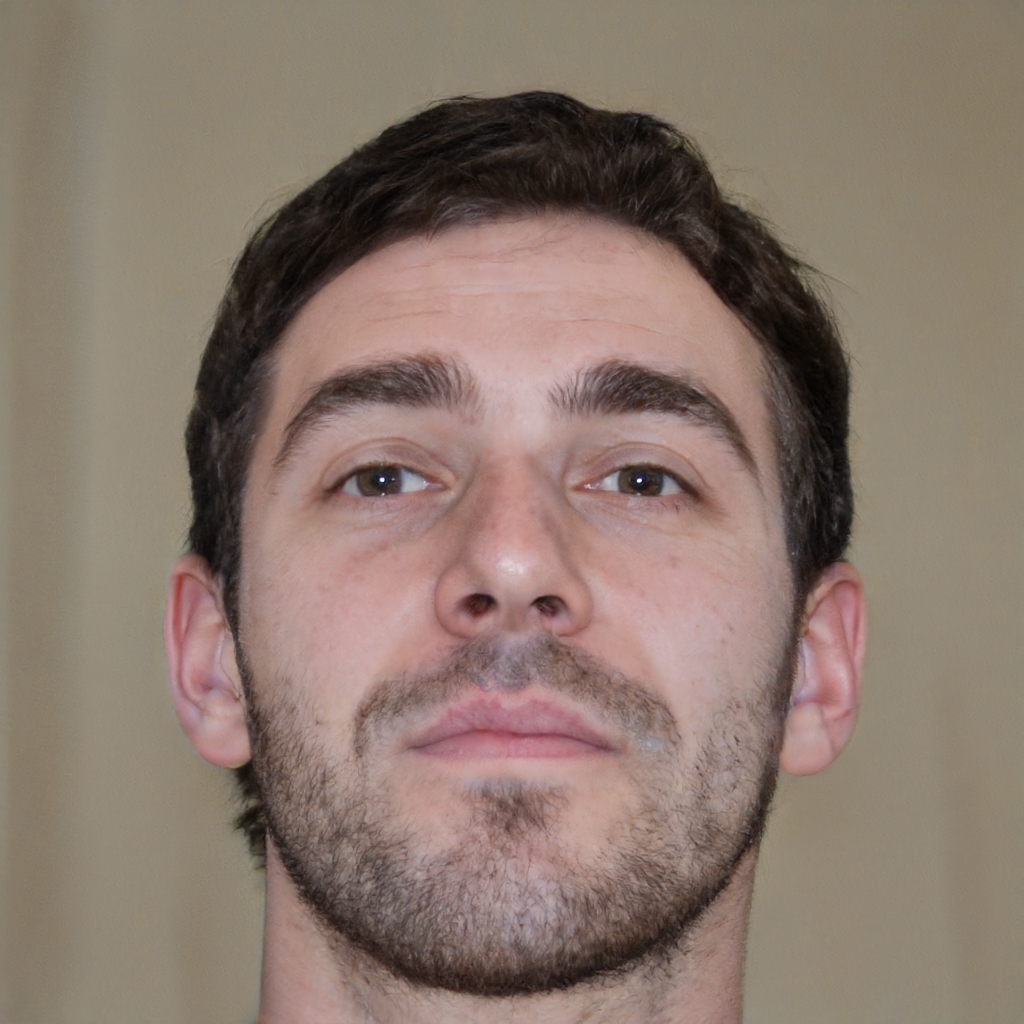 I'm a highly sought-after speaker and advisor, and have been featured in major media outlets such as CNBC, Bloomberg, and The Wall Street Journal. I am passionate about helping others to understand this complex and often misunderstood industry. I believe that cryptocurrencies have the potential to revolutionize the financial system and create new opportunities for everyone.