Stocks Reach New All-Time Highs, Digital Assets Struggle to Hold Support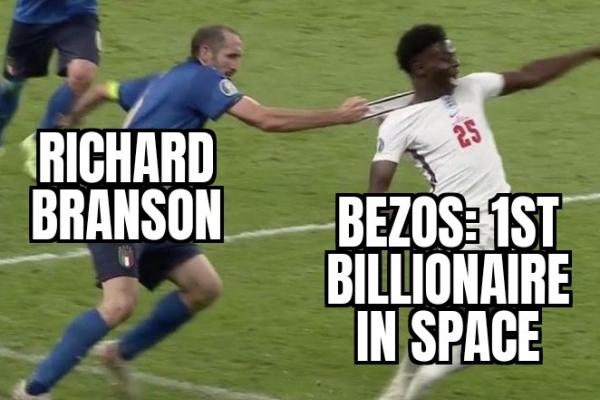 A mighty competition, the culmination of months' worth of hard work and dedication, resulted in the victory for England.
No, we're not talking about the finals of the UEFA European Championship, which was a crushing defeat for England, resulting from a rather disappointing penalty shootout. Forza Italia!
We're talking about the billionaire race to space. Richard Branson, the English entrepreneur, investor and adventurer, stole the title of first billionaire to space right out from under the nose of former Amazon CEO Jeff Bezos.
While some might say that the altitude of Branson's virgin Virgin Atlantic flight to space didn't really go high enough to be considered a venture into space, they have successfully kicked off the dawn of the new and exciting age of space tourism, which promises to be a very lucrative industry indeed.
Seeing the images of Branson on social media having the time of his life right next to pictures of two of the world's poorer countries, Cuba and South Africa, falling apart at the seams, does make it seem like we're headed for a rather dystopian future.
This contrast is even more intense when we consider that Virgin Atlantic has gone through several emergency restructuring packages over the last year and has even asked the British Government for a bailout.
According to the official rules of capitalism, the company should probably be knee-deep in bankruptcy proceedings right now.
Instead, the generous cash injections provided by global central banks have created an environment where money is cheap and easy, and Virgin Galactic's stock, unlike Branson himself, is on course for the moon.
Sad divergence
It's not just shares of Virgin Galactic that are mooning today either. All three major U.S. stock indices the Dow Jones Industrial Average, the S&P 500 and the Nasdaq composite are all up about a third of one percent today, timidly forging new all-time highs.
The crypto markets, on the other hand, are fighting to hold support.
If I weren't so hung up on the fact that bitcoin is down 5% today, I'd probably be celebrating the divergence.
One thing that both markets will be paying close attention to however, is tomorrow's consumer price index (CPI) report from the U.S. Bureau of Labor Statistics.
Last month, the inflation figures surprised economists by hitting an annual rate of 5%. This number is widely expected to tick down to 4.9% when they're announced at 8:30 AM in New York.
To put the figures into context, let's check out this graph going back to 1972. From a headline perspective, last month's figures were the highest in more than a decade.
A jump above 5.6% would be the highest since the early 1990s, when the CPI reached as high as 6.3%.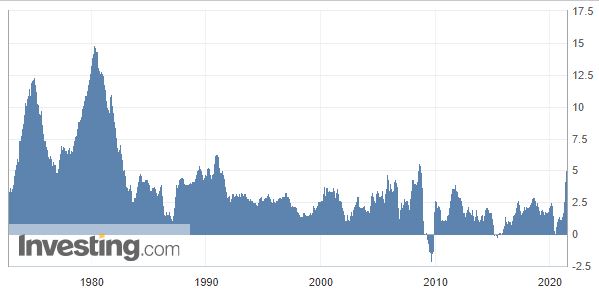 Flashy headlines to the affect that inflation is higher than it's been in very many years have a way of getting people's attention and turning to the authorities.
As a result, a large surprise to the upside could cause Federal Reserve officials to act swifter than they would like and raise interest rates, which would likely have an adverse affect on stocks and could even be positive for crypto, in a sort of "this is fine" anarchistic sort of way.
A surprise to the downside, however, would no doubt reinforce the Fed's narrative that inflation is transitory. It would probably go right to their heads. There'll be no living with them really.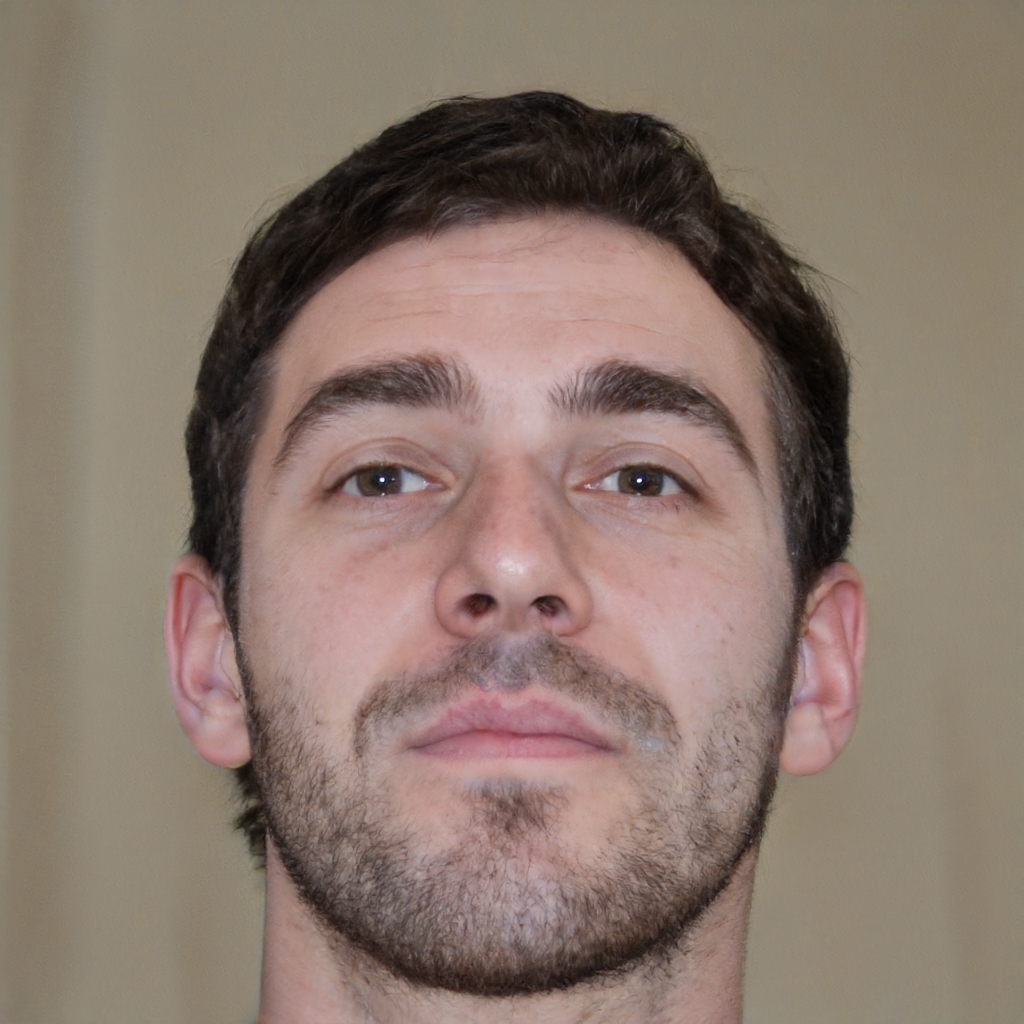 I'm a highly sought-after speaker and advisor, and have been featured in major media outlets such as CNBC, Bloomberg, and The Wall Street Journal. I am passionate about helping others to understand this complex and often misunderstood industry. I believe that cryptocurrencies have the potential to revolutionize the financial system and create new opportunities for everyone.