How to Buy Canaan Stock, Step by Step (with Screenshots)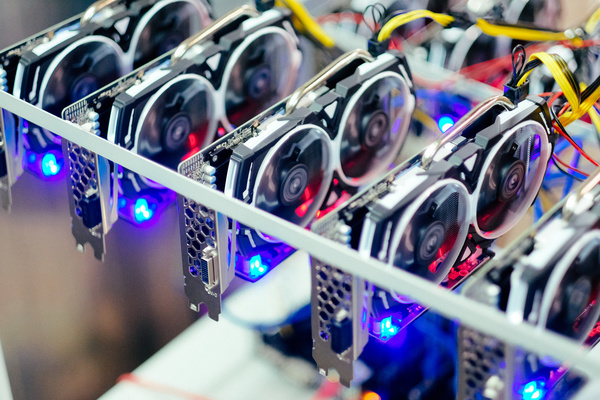 There's an old saying that goes: "During a gold rush, sell shovels."  This logic is one of the factors driving a recent surge of interest in cryptocurrency mining hardware producers like Canaan (CAN).
While there are many important differences between traditional, analog gold rushes and the current digital gold rush, there's no question that selling equipment to miners is a profitable venture in either case.  The hash rate of the Bitcoin network alone has grown from 2 TH/s in 2017 to around 150 TH/s in 2021 – about 7,500% – and all of this growth depends on mining hardware.
In this guide, you will learn how to buy Canaan stock on E*TRADE in case you would like to add digital currency mining sector exposure into your stock portfolio.
Who's Canaan?
Canaan Inc., also known as Canaan Creative or just Canaan, is one of the leading players in the mining hardware market. Canaan's competitors include companies like Riot Blockchain (RIOT), Marathon Patent Group (MARA), and Hive Blockchain Technologies (HVBTF). The mining hardware market is intensely competitive, but Canaan's Avalon series of ASICs is one of the most popular options on the market.
CAN began trading on the NASDAQ in late 2019. At its IPO, the stock was priced at $9 per share, settling down to around $2 per share in the second half of 2020.  As Bitcoin rallied in March of 2021, however,  it carried CAN to new highs. CAN briefly peaked at $34.30 on March 7th, before dropping back to $8 by June 2021, giving it a market cap of approximately $1.3 billion.
If you're looking to get exposure to the historically robust growth of the mining hardware market, CAN may be a good option for your portfolio.
Note: CAN is a traditional stock that trades on the NASDAQ – NOT a coin or crypto asset. 
This guide will guide show you how to buy Canaan stock using E*TRADE, one of the most popular online brokerages.
Step 1: Register an Account
First, you need to create an account. Navigate to the E*TRADE homepage and click the button in the upper right corner labeled "Open an Account." Complete the required steps to access the markets.

Step 2: Select Order Type.
After you log in, click on the "Trading" tab. Then, select "Stocks/ETFs." Type CAN in the "Symbol" box and select Canaan.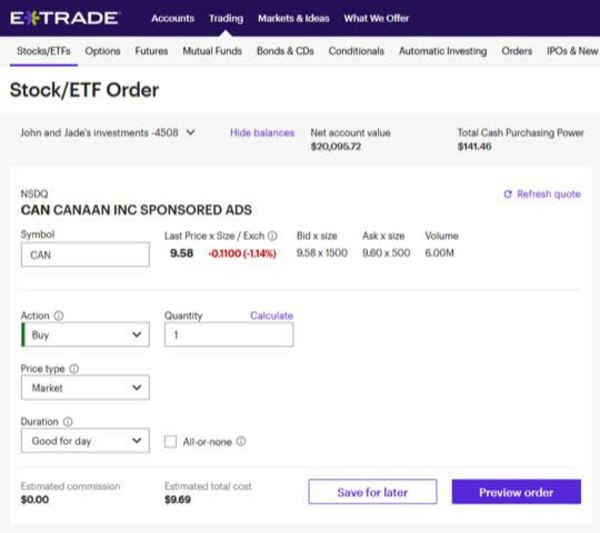 Under "Action," select "Buy" and then enter the number of shares you want to purchase in the "Quantity" box. If you want to buy immediately, select "Market" under "Price type." 
This is the fastest and easiest option, but if you want to wait and buy at a lower price, you can also place a "Limit" order and set the price you want to buy at. Once you own some stock, there is also an option to place a "Stop" order, which will automatically sell the stock if the price goes down. This is option is used to stop heavy losses from happening.
The "Duration" box sets how long your order will be valid. If you select "Good for day" the order will be valid for the rest of the day. This means that E*TRADE will buy the stock at the price you choose by the end of the day if they can. If they can't, the order will be canceled at the end of the day.
An "All-or-none" order means that you only accept to buy the full amount of the order. For example, if you order 500 shares with an "all or none" order, the order will only execute if there are 500 shares available at the price set. With other order types, if there are only 200 shares available at the price you set, E*TRADE will still buy the shares for you, even if your order was for 500 shares.
Note: There are other trading options, but the methods mentioned here are the most common.
When you are done selecting your preferred options, click "Preview Order" to continue.
Step 3: Complete Order.
After you click "Preview Order," you should see a screen that looks like this: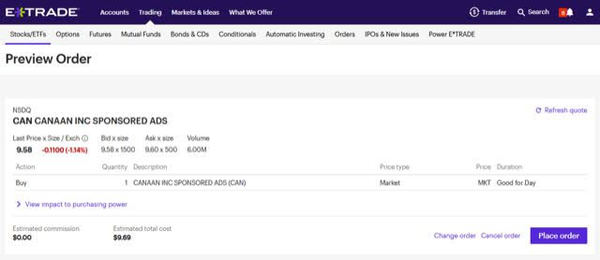 If everything looks right, click "Place Order." 
That's it!
You've finished placing your order to buy Canaan stock. If you selected "Market" under "Price type," your order should be filled immediately. Otherwise, it will be completed when the conditions you set are filled.
The Future of Mining
There's no shortage of people who are bullish about the future of digital currency, and the state of the mining hardware industry makes this very clear. Even though digital asset prices stagnated from 2018 through most of 2020, demand for mining hardware stayed steady.
It looks like this pattern is set to continue. New entrants into the market are setting up mining operations all the time, and established players are looking to upgrade their equipment to achieve higher efficiency.
The success of mining hardware producers will be dependent on the digital asset market, of course, but there are plenty of believers in the Proof of Work security and distribution model. This will most likely continue to fuel the mining industry for the foreseeable future.
Related Articles:
Subscribe to Bitcoin Market Journal for daily digital asset market updates.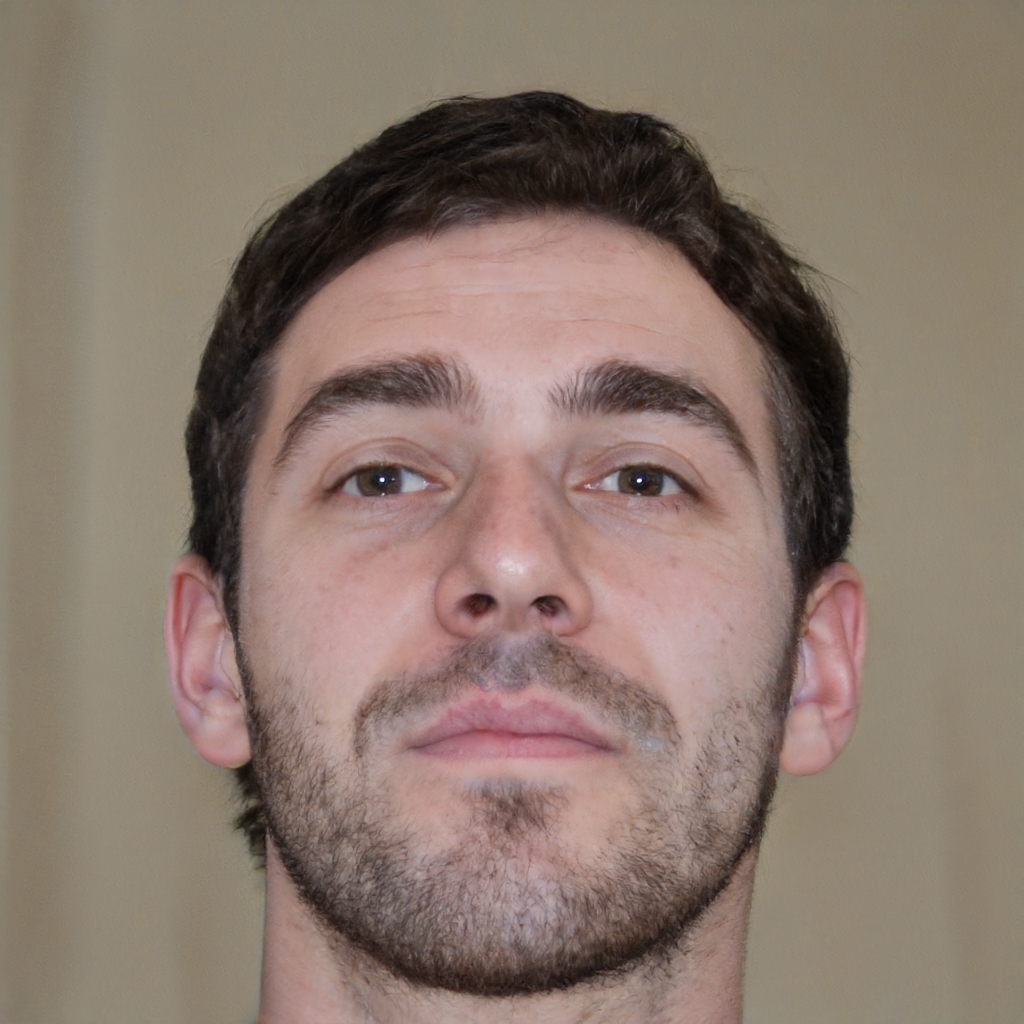 I'm a highly sought-after speaker and advisor, and have been featured in major media outlets such as CNBC, Bloomberg, and The Wall Street Journal. I am passionate about helping others to understand this complex and often misunderstood industry. I believe that cryptocurrencies have the potential to revolutionize the financial system and create new opportunities for everyone.